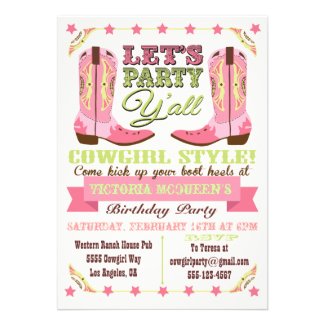 Cowgirl Western Birthday Party Invitations by McBooboo
It's time to take a look at some great Wild West Party Invitations. We've look at western props and decor and even learned how to make our own wanted posters for the party. Now's the time to find invitations so the proverbial ball can get rolling for this shindig.
We've got you covered for invitations regardless of the birthday person's age. Let's take a look at some examples of wild west party invitations.
Kids Wild West Party Invitations
Whatever your child's age, you can't go wrong with a western theme. Kids still love cowboys as they have throughout the generations. The theme encourages kids to dress in their favorite western outfits complete with boots. There are plenty of opportunities for games, food, prizes and all around fun. It's a classic.
Boys and girls alike will love getting wild west party invitations from your child! There are lots of styles to choose from and they are all personalized at no additional cost. Which is your favorite?
Teenager and Adult Wild West Party Invitations
Just because they're older doesn't mean they won't love a wild west theme. A wild west theme always fits. Period.
Choose your favorite design and then edit the text to fit your party details. Printed fast with no hidden costs, you will be thrilled with the final product. I have ordered my
daughters graduation announcements
Christmas cards
shower invitations
a few greeting cards
and always, always been more than happy.
My favorite is the first one below for a female and the last one in the row for males. There are so many to choose from it's hard to narrow it down. You can see all available designs here.
Gather up the paper and pen and start making your list of guests! With one of these awesome invitations, terrific wild west props & decorations and DIY personalized "Wanted Posters", your party is gonna be the hit of the year!
Incoming search terms:
wild west party invitation
wild wild west adult invatation