The world of the 1950's comes alive for parties with rock and roll birthday invitations. Rockin round the clock, sock hops, poodle shirts and black leather jackets are just some of the fun from that musical era. Clear the floor, crank up the volume and get ready for a rock and roll good time.
Rock and Roll Parties for Any Age
The birthday person doesn't need to have grown up in the 1950's to enjoy a Rock and Roll party. Any age can have plenty of fun. It's all about a lively time with plenty of dancing and the party theme.
Folks who are celebrating that big five-oh birthday are perfect candidates to have a rock and roll party. In fact, it's a popular theme. And luckily, there are lots of choices for those rock and roll birthday invitations.
Rock and Roll Birthday Invitations
These are just some of my favorite invitations. Some will work great if you want to encourage costumes for the party. Some work better for a dance party. No matter what kind you want to have, you'll surely find the perfect invitation.
Easy Personalizing for Your Party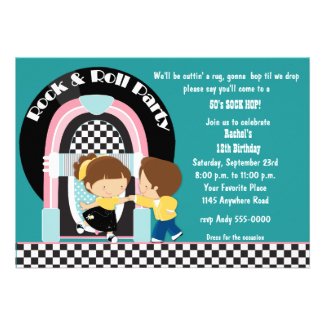 Rock & Roll Dancers Birthday Invitation
by
mousearte
Create your own
custom invites
at Zazzle.com
One of the things I like about the party invitations from Zazzle.com is how easy they are to personalize for your own party details. It's literally just a matter of fill in the blanks. You see exactly how it will look right there on your screen. And that is exactly how it comes out when you get your invitations. Easy!
Zazzle also makes it easy to create your own party invitations. If you have an image you want to use, just upload it. Then add in the text you want. You can change anything and everything. The font, the color, the placement. And it's all simple to do. So don't be afraid. Personalize to your heart's content.
Whether you design your own, or choose one from the talented artists, you are sure to have the perfect rock and roll birthday invitations. Saddle shoes anyone?