I love vintage and I have always loved the idea of Paris. I've never been but hope to go one day. Until then, I am seriously considering re-doing my living room in a vintage Paris theme. My bedroom is already started with a vintage travel theme so the Paris wouldn't be that much of a stretch.
I have been all over the web looking at whats available in home decor for a vintage Paris theme. A lot!
I found lots of throw pillows. I love throw pillows to set a room off. I need to set a color scheme and then decide which colors I want to pop in the pillows. In the meantime, here are some of the pillows I am leaning towards: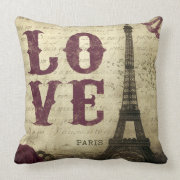 Vintage Paris Throw Pillows by DulceDahlia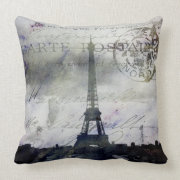 Textured Paris in Lavender Pillow by Meg_Stewart

Bonjour De Paris Vintage Map Decorative Pillow by HopePhotoArt
Now, I also have to have an architectural replica of the Eiffel Tower. It's simply a must. There are a lot of different sizes available but I think I am leaning towards a larger one that I can set on top of a couple of old, vintage suitcases I have. I think it would make a neat little vignette.

Eiffel Tower Replica 20" Black Metal

Eiffel Tower Decor Accent, Large
Got some more looking to do. I want some small, accent pieces like coasters, wall grouping and knickknacks for the tables and bookcases. I'll keep you updated on what I find!
Here's a few things on eBay right now...