Everybody loves a circus! Especially a vintage circus theme wedding. It brings to mind being a kid and who doesn't like the memories of life in much simpler times. The side show, the big top and, of course, the midway are all things that can be reproduced -- to any extent you want -- in a circus theme for your wedding or event.
Vintage Circus Theme - Invites and Save the Dates
I wrote a more in-depth article about a circus theme here -- Circus Theme | Vintage Weddings -- if you want more detail. Basically, you can add a touch of an old time circus theme through many different areas or you can go whole hog -- it's up to you.
The first thing guests will see that represents your wedding and reception is the save-the-date and/or invitation. Use this medium to convey your theme. There are tons of wedding stationary with a circus theme -- some are "in your face" in design while others have just a suggestion of your theme. Here are a few examples: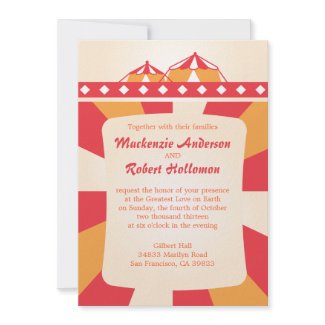 Circus Wedding Invitations - Red and Orange by youreinvited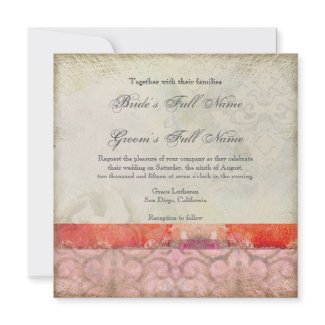 Modern Vintage Baroque Swirls Wedding Dreams, Pink Invite by AudreyJeanne

Steampunk Circus Wedding Invitation Pink by charmingink
Remember, at Zazzle, you can get any quantity, no set-up fees, no minimum orders, you can customize most of the wording and if you need a color not shown, most artist will be happy to oblige if you contact them! Talk about money savings!
These stationary items really set the tone and let your guests know what to expect. If it's a fun, whimsical or very formal event. With a circus theme, you can go any of those directions! You decide.
Vintage Centerpieces for a Circus Theme
Now for the fun part. Quite a few years ago, never mind how many... I got the brilliant idea to have my mom and aunt --who are avid antiquers -- help me find truly vintage items for a vintage Hollywood event I was decorating.
Remember, this was back when no one did that! It was a novel and unique idea at that time.  Anyway, I had them souring vintage antique malls, yard sales, eBay and even some auctions for items that I could group together to represent a past "Best Picture" winner from the Academy Awards. We actually did a table for the movie -- "The Greatest Show on Earth" that won best picture in 1952. My family did not let me down!
The main ingredient in the centerpiece was a small replica of a red and white striped big top tent that I tea stained to appear older. Then, around that, we added a vintage paper popcorn box, a top hat (think ringmaster) propped cockeyed on round risers I decorated from mini paper mache boxes (replicating those the animals performed on), a couple of vintage circus tickets and a program we found at a vintage booth and  vintage clown figurine. I wish I had a picture to show you! It was just awesome -- we got tons of compliments on that table in particular.
Now, I am a big fan of all the tables having different centerpieces -- it's just more interesting than a "sea of likeness". And, with vintage items, it's very easy to accomplish too! eBay is a wonderful place to start when looking for vintage items with a circus twist
.
You can find a lot of different items to use as centerpieces for a circus theme. Here are a few photos with credits to their originators.
via TheKnot.com
Items to Incorporate into a Circus Theme Vintage Centerpiece
There are literally tons of items you could incorporate into a centerpiece for a circus theme. Think ferris wheels, popcorn containers, clow figurines  (though I would keep these to a minimum for a wedding), Ringmaster hat, candy, tickets, circus pamphlets or flyers, pinwheels, clown nose, elephants, horses, admit one tickets or ticket rolls, feathers like the horses and showgirls wear, old advertising signs like Coke, Nehi and Cracker Jacks, mini banners or pennants and so on! The list is almost endless!
Just on on your thinking cap, visit some antique - vintage booths or flea markets and come up with your own interpretations. After all, a circus theme is the "Greatest Show on Earth"!
Incoming search terms: